Residents who wish to dispose of household hazardous waste such as chemicals, paint, solvents, batteries, insecticides, pesticides etc. can do so by bringing them to the collection sites and on the dates mentioned below on the calendar. This service is offered to residents of the agglomeration and is not intended for contractors.
2021 Collection calendar for the West Island
AAA to D alkaline batteries
adhesives epoxy, paint stripper, spray cans
automotive batteries (acid/lead)
cleaning products: drain pipe cleaners, degreasers
fluorescent tubes and compact fluorescent light bulbs
leftover latex or alkyd paint*
motor oil**
pesticides
pool chemicals
propane tanks or cylinders
rechargeable batteries: Ni-Cd, Ni-MH, Li-ion or Pb
turpentine, Varsol, gasoline, fuel, thinner, alcohol, shellac
*Paint can be brought, year round, to Rona stores.
**Used motor oils can be brought to most Canadian Tire stores.
Refused materials: Used tires (they can be brought to dealers).
Reminder when moving:
You are moving – Think about Ecocentres!
During this period of relocation, give your ousehold items a second life. Before you throw it away, think about reusing it!
Saint-Laurent Ecocentre
3535, rue Sartelon
H4R 1E6
As of June 19, the summer schedule is in effect: 8 a.m. to 6 p.m. from Tuesday to Saturday.
Saint-Laurent Ecocentre is open on Wednesdays, June 24 and July 1.
Closed on Sundays and Mondays.
Détails:  Ville de Montreal: Écocentres
Old electronics site open seven days a week
Opening hours: from 8 a.m. to 8 p.m.

Reserved parking space for users.
Public Works
100 Glenmore
Dollard-des-Ormeaux (Québec) H9B 2X9
Ring the bell and we will open the door!
By diverting from landfill sites material that is toxic for our environment, we will be improving our management of recyclable materials. An eco-friendly gesture!
Items accepted
Computers, cellular phones, screens, printers, televisions, radios, photocopiers, fax machines, scanners, modems, players (VHS, DVD, CD and MP3), digital and video cameras, video consoles, etc.
We also accept batteries, printer cartridges, DVDs and CDs, cassettes (audio, VHS, etc.).
This site is for Dollard-des-Ormeaux residents only.
To know more about electronic items accepted, visit the Recycle My Electronics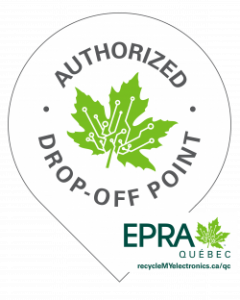 Public Works
General information: 514-684-1010
Suggestion or complaint: 514-684-1034