Construction of the future Sunnybrooke station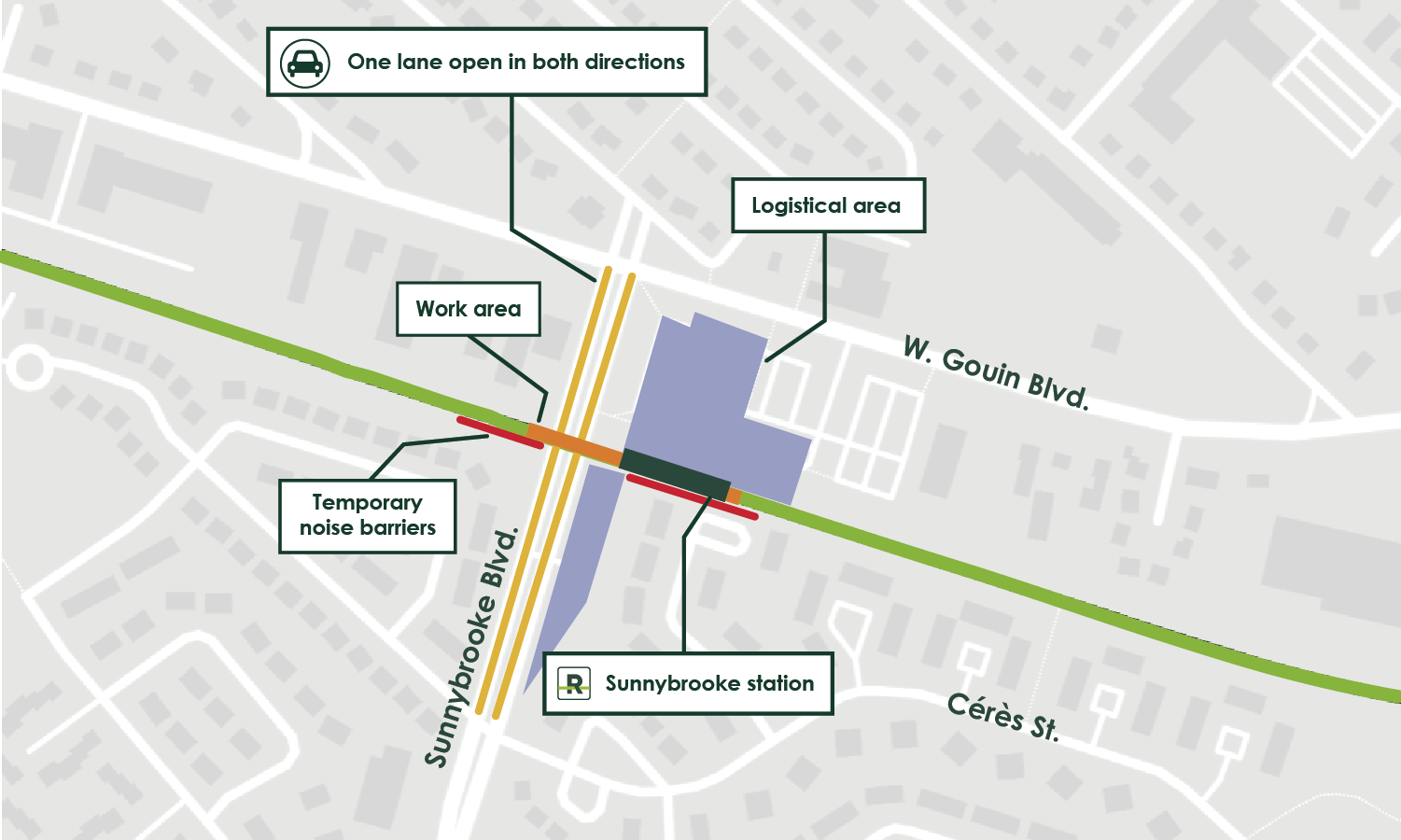 Nature of the work:
Since January 2021, the complete service interruption on the Deux-Montagnes train line has made it possible to start work on the transformation of the railway right-of-way to allow the passage of the REM, including the dismantling of existing infrastructure and work on the elimination of level crossings.
The construction of the future Sunnybrooke station is also starting gradually with the installation of the construction site and will be carried out in the following stages over the coming months.
Schedule

Work

January – March 2021

Installation of the construction site and workspace planning

Mobilization of trailers, fences and equipment
Cutting of shrubs, trees and small vegetation in conflict with work areas and permanent facilitie

Dismantling of exo railway infrastructure (platforms, electrical system, rails, stone ballast)

February – June 2021

Beginning of construction of the station

Construction of a retaining wall near residences in the De Gaspé sector
Installation of temporary noise barriers near residences
Excavation of the land and drilling of the station's foundations (102 piles, drilled and then driven to anchor to the ground)
Construction of the elevated structure linking the station to the Sunnybrooke overpass (drilling of caissons, construction of columns and pierheads, installation and concreting of the deck)

Construction of the Sunnybrooke overpass

Construction of retaining walls west of Sunnybrooke Boulevard
Relocation of public utilities near the station's south parking lot
Lowering of Sunnybrooke Boulevard by 1.2 metres (civil work)
*These dates are subject to change. Work will take place from 7 a.m. to 7 p.m. Work before and after this time period will allow for the mobilization and demobilization of equipment and site clean-up.
Impacts and mitigation measures:
The goal of the REM project office and the NouvLR consortium is to mitigate the impact on local residents and ensure everyone's safety by taking all appropriate measures.
This work may generate noise, vibrations and dust. Measures will be implemented to mitigate impacts at the source (temporary noise barriers, low-noise equipment, white noise vehicles). To ensure that the project's noise, vibration and air quality criteria are met, monitoring by environmental experts will take place throughout the work.
Some lane narrowing and traffic obstructions may be put in place to minimize construction traffic and secure the construction zones. Flaggers located around the perimeter of the construction site will ensure pedestrian safety.
Cutting of trees and shrubs will be overseen and coordinated by our environmental experts. Through a reforestation program, the same number of trees that were cut in temporary construction zones will be replanted, and an additional 10% will be planted in the municipal territory or borough where the trees were cut, once construction of the REM is complete.